Stambaugh Charter Academy Partnership
Welcoming Stambaugh Charter Academy to CIS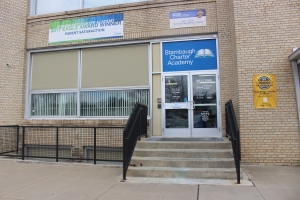 We are pleased to announce the addition of Stambaugh Charter Academy – a National Heritage Academy school – to Communities In Schools of Ohio.  Stambaugh, located in Youngstown, Ohio, joins the growing network of schools partnering with CIS of Ohio.  Since 1993, CIS of Ohio has provided a proven, evidence-based model of coordinating a comprehensive range of community services. CIS works in tandem with schools to establish an integrated student supports model, surrounding students and their families with a system of caring adults that keep students on the path to graduation.
National Heritage Academies is a network of 90+ public charter schools serving more than 60,000 students in 9 states. Their early childhood, elementary, and middle school programs are designed to put children on a solid path to success in high school, college, and beyond. As a network, all National Heritage Academies schools share a common vision, while each individual school enjoys the flexibility of tailoring their program to meet the needs of their specific community.
Click here to learn more about who we serve and our partner schools.
https://www.ciskids.org/wp-content/uploads/2020/10/CIS_Ohio_Horizontal_CMYK-new.png
0
0
CIS
https://www.ciskids.org/wp-content/uploads/2020/10/CIS_Ohio_Horizontal_CMYK-new.png
CIS
2021-02-26 14:10:09
2022-05-06 11:15:19
Stambaugh Charter Academy Partnership