CIS News – Hamilton Township High School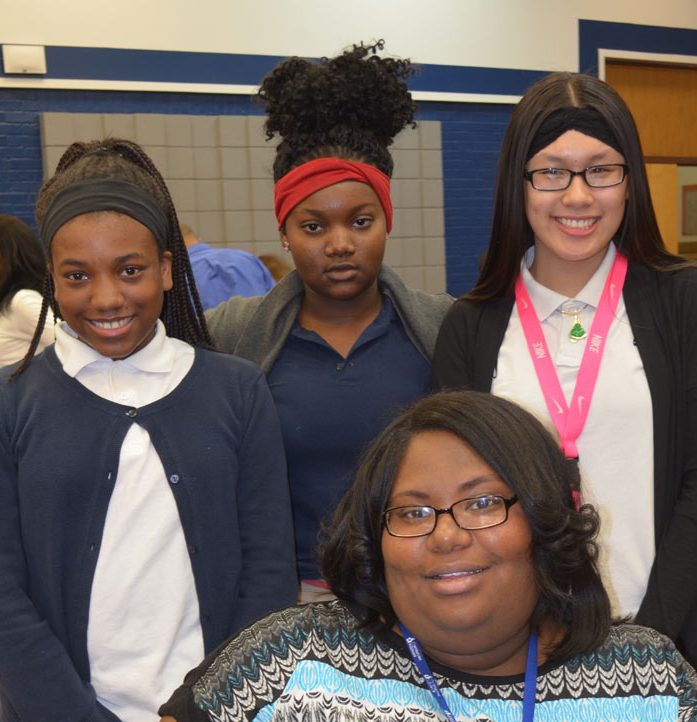 Happy Spring,
Please save the date for our annual Community of Support Breakfast, Tuesday, May 15, 8:00am – 10:00am at the OSU Fawcett Center. 
More details to follow soon.
Having just completed my first full year as the Executive Director of Communities In Schools of Central Ohio, I am humbled and amazed at the work our school Site Coordinators do every day to serve their schools and students! They are in the trenches working with homeless students, pregnant and parenting middle and high school students (yes, middle school!), students who have lost one or both parents to drug overdoses, students sleeping on the floor every night because there are no beds in the house, and students who regularly experience trauma – seeing their mom beat up by a boyfriend, watching their best friend being shot, or even just the trauma of not knowing where their next meal will come from when they're not at school. The challenges so many of our students face is daunting and sometimes hard to believe, yet it is the reality for many young people today. Communities In Schools works to address non-academic barriers, barriers like those mentioned above. The barriers that make it difficult to come to school or to be able to focus on school once they are there. 
In the 2017-2018 school year, CIS of Central Ohio expanded into ten additional schools and two new districts. We increased from serving nine schools with nine full-time Site Coordinators in the 2015-2016 school year to serving twenty-one schools with twenty-two full-time Site Coordinators this school year, that is 144% growth in just two years! While we celebrate our growth, we are also very aware of the reality – the needs of our schools and students are immense and they are struggling! 
Last year our Site Coordinators impacted over 7,300 students and our recent growth has doubled our efforts, expanding our outreach to more than 15,000 students being impacted by the work of CIS. Our Site Coordinators are extremely energetic and caring, and they are passionately engaging services and resources that support the students and families in their schools. 
Consider the following statistics:
·        A high-school dropout is ineligible for 90% of jobs in America.
·        Kids who don't read proficiently by 4th grade are 4 times more likely to drop out of school.
·        75% of US crimes are committed by a high school dropout
 
99% of our CIS case managed students stayed in school last year!
 
Please join us in supporting students and empowering them to stay in school and achieve in life- we can't do it without you!
 
Warm Regards,
Amy Gordon, Executive Director, LSW
 
Spotlight Series: "Extraordinary" things are happening at Hamilton Township HS
Communities In Schools is very excited to start partnering with a new district this year, Hamilton Township, and new Site Coordinator Brittany Price is off to an excellent start!
Brittany began by putting together educational information for students and parents at the Parent Teacher Conference nights. This exposed the community to CIS in general and provided families an understanding of what resources are available to them. She also joined the Attendance Committee so she could recognize, firsthand, which students might need assistance with home issues preventing them from being in school.
Brittany also jumped right into providing one-on-one mentoring and resource support for students and families. Brittany collaborated with 2 teachers at Hamilton Township HS and Ohio State Representative Alicia Reece, Ohio State Representative Hearcel Craig, and US Congresswoman Joyce Beatty to bring young black males employed in government/legal positions into Hamilton Township to speak to and mentor the students.
"Bringing these legal aides, all who are college grads, 
into the school to speak with our 
students was powerful. These professional had similar lives 
growing up and they really inspired our students to think about what 
their futures could look like."
Communities in Schools strongly promotes collaboration among our Site Coordinators. As a result, veteran Site Coordinator Darren Carrington, at Mifflin High School, introduced Brittany to a program called "King Me", within The Extraordinary Gentlemenorganization. A representative from the program, Traci Blaylock comes to the school to meet with and mentor young African American males 4-5 times a month. Other collaboration within the CIS Site Coordinator team has allowed Brittany to easily bring in the LASER program, an initiative at OSU that is a community of students and scholars engaged in expanding the presence of Latinos in higher education. The LASER program is also fully utilized by veteran Site Coordinator Christopher Whiteside at Columbus Global Academy.
In January, Brittany also took students to a career fair at Milo Grogan Community Center sponsored by CareSource. This has empowered students by exposing them to good career choices now and for the future.
Through our amazing community partnerships, we are empowering students to stay in school and achieve MORE! Thank you so much for your continued support!
https://www.ciskids.org/wp-content/uploads/2018/09/MMS5-low-res-e1541608080344.jpg
722
697
EM Creative
https://www.ciskids.org/wp-content/uploads/2020/10/CIS_Ohio_Horizontal_CMYK-new.png
EM Creative
2018-02-27 18:04:10
2018-11-07 16:29:14
CIS News – Hamilton Township High School